The MakersDRIVER 2UP BASIC takes building finished DIY LED fixtures to a new level by simplifying wiring and power connections.
The MakersDRIVER 2UP BASIC is powered by an inexpensive 48V DC power source (sold separately) to drive up to 28 LEDs. It provides 2 dimming channels, each capable of driving 14 LEDs. The MakersDRIVER 2UP BASIC incorporates  user-replaceable Meanwell LDD series LED drivers.
Unlike the MakersDRIVER 2UP PRO, the MakersDRIVER 2UP BASIC provides only knob dimming functionality with no fan power supply or external dimming control options (for example: No MakersCONTROLLER interface or 0-10V dimming input).
Included:
• MakersDRIVER 2UP BASIC, plastic housing, knobs
• Stainless docking hardware for the MakersLED heatsink
Features:
• Docks into the MakersLED Heatsink
• Drives up to 28 3v LEDs at 1000mA (45V available per channel, using blue terminal blocks)
• 2 channels of dimming (14 LEDs/channel)
• Manual dimming interface (via 2 integrated knobs)
• Your choice of 2 Meanwell LDD Drivers (300mA, 500mA, 700mA, 1A, or as reseller provides)
• Utilizes inexpensive 48V DC power supplies (not Included)
• Barrel Jack Connector (2.5mm x 5.5mm) or Green Terminal Block Connector for applying 48V (use either)
• Fused for added electrical protection
• Docks into 1ft or greater MakersLED heatsinks with space for a fan
• 90 day warranty
Not Included (check with your vendor!):
• 2 Meanwell LDD LED Driver Modules (up to 1000mA)
• 1 48V Power supply
• Fan Power Source
• LEDs
Typical Usage: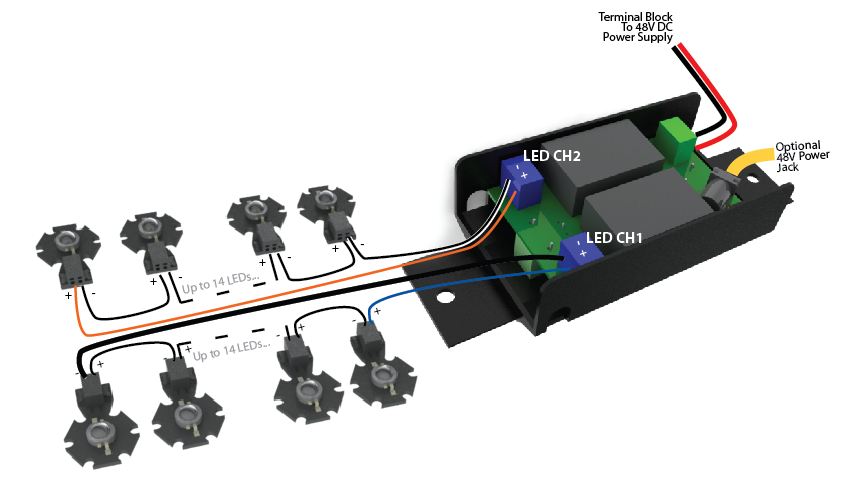 Meanwell LDD Module Installation (Modular Pluggable LED drivers, up to 1Amp):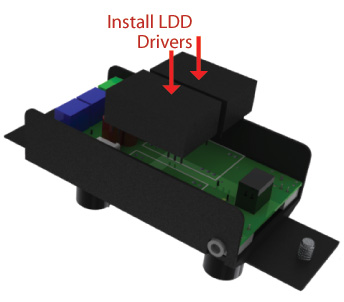 90 day limited warranty against defects in materials and workmanship. MakersLED LLC will determine the root cause of the defect, and your item may be repaired or replaced free of charge. Customers pay for shipping to our service location and we pay for the return shipment. Warranty does not cover failure caused by accident, misuse, abuse, alteration, or faulty installation.