The MakersLED Power Cover takes building finished DIY projects to a new level by safely housing AC power wiring and simplifying wiring and power connections.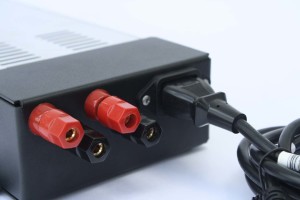 The MakersLED Power Supply utilizes inexpensive chassis power supplies (5V to 48V DC; 250W to 400W). This cover has been tested to work with Meanwell brand NES-350, SE-350, SP-320, and will fit other brands following the 115mm x 50mm standard. Please check you power supply's data sheet to confirm compatibility.
Included:
• Rugged Powder Coated Steel Housing (Black)
• AC Adapter Plug-in (IEC Plug, Rated 110~220V )
• 3 Prong, Grounded AC Power Cable (5ft)
• Toolless DC Terminal Binding Posts (2 connection options)
• Rubber Bumper Feet to Protect Surfaces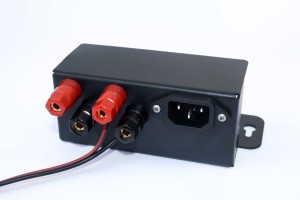 • Pre-installed Wire Pigtails for Easy Hook-up
• 2 Fastening Screws for Attaching the Cover
Features:
• Concealed AC Connections (No more exposed high voltage!)
• Built-in Mounting Flange (with key holes for easy screw mounting)
• Grounded Housing for Added Electrical Protection
• AC Plug Provides Ability to Quickly Disconnect AC Power
• Pre-Wired and Pre-Assembled
• Utilizes inexpensive 48V DC power supplies (separate or included*)
•  1/2″ holes for the Binding posts can also serve for many other panel connector types
* Depending on the reseller channel, this power supply cover may be sold separately or pre-installed onto a power supply.
This power supply cover kit was developed because there is a lack of high wattage (ie 250W,300W, 350W, 400W) power supplies that were cost effective and consumer friendly using a standard AC power cable. This power supply cover will work for many applications ranging from LED lighting (ie, combined with MakersDRIVERS), 3D printers, CNC Routers, or any hobby project that requires high voltage safety and convenience.
MakersLED Cover Installation Guide for high wattage Power Supplies (PDF)
Re-sellers please inquire via Support@MakersLED.com