It's Slim:
1.5 inches thick, 6.2 inches Wide

thermally optimized, 392 square inches total surface area per foot

6063 heatsink grade aluminum

tempered and anodized for durability

black anodized for improved heat radiation

7 lanes of LED mounting area

The Kit Includes:
cut to length heat sink housing

black anodized to protect finish and improve radiant heat transfer

1/16″ [1.5mm] clear acrylic splash guard

two plastic end caps [injection moulded ABS plastic]

stainless steel assembly hardware [on exposed parts]

4-40 screws and nuts, enough for 25 LED's [per 12"]*

nylon washers, enough for 25 LED's [per 12"]*
*nano fixtures (6″) include enough hardware for 12 LEDs, 18" fixtures include enough hardware for 37 LEDs.

The Right Sizes:
6 inches to 6 feet: the most length options in the industry
Standard lengths include:
0.5ft / 6in "Nano" (15.2 cm)

1ft (30.5  cm)

1.5ft (45.7 cm)

2ft (61 cm)

3ft (91.4 cm)

4ft (121.9 cm)

6ft (182.9 cm)

t-Slots for Ease of Use and Flexibility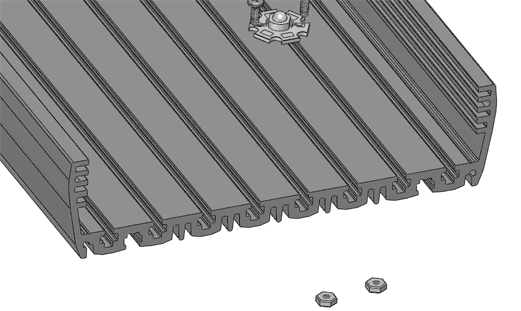 MakersHEATSINK SLIM uses "t"-slots for ease of LED mounting and re-configuring (patented and pending).
Why be locked into a particular LED package, color spectrum, or vendor when you don't have to?
Why use screws? Screws help reduce the thermal resistance of your LEDs – by increasing contact pressure with the heatsink, keeping LEDs cooler.

How Many LEDs?
The kit includes enough hardware to mount 25 LEDs per foot. The heatsink has enough area to mount ~85 star LEDs/foot, but it is not practical to keep this many LEDs cool in such a small area.
MakersHEATSINK SLIM is a solid extruded piece aluminum with no large milled out fan pockets or thermal voids.
A 1 foot SLIM heatsink in open air will cool approximately:
33 watts of LEDs with no fan
85 – 100 watts of LEDs with a Fan

Example: One Lumia 5.2 @ 70W will run at a cool temperature of 85F [29C] on the backside of the the heatsink (with a fan)
If you need more cooling power, check out the heavier duty classic MakersHEATSINK.


Options (Sold Separately)

By Makers for Makers: 3D Printable Models
Welcome to the future. The 3D models to our plastic parts available for you to download and 3D print yourself.
Made in the USA
It is unusual these days, but we extrude our heatsink products right here in the USA. Americans extrude, cut, QC, and box every single MakersHEATSINK kit.
.
MakersHEATSINK is Patented and Patent Pending