MakersLED Heatsink kit will give your DIY LED fixture a professional finished look. The unique t-slot features allow easy installation of LED's and mounting. Its ability to be reconfigured allows you to tune in your light fixture according to your taste, needs, and budget at any time.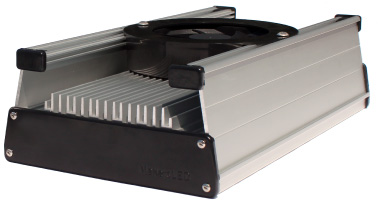 The Kit Includes:
heat sink housing
clear anodized to protect finish and improve radiation heat transfer
acrylic splash guard
two plastic end caps
four upper t-slot plugs
92mm fan 12V [one per 12"]*
92mm fan cover[one per 12"]
stainless steel assembly hardware [on exposed parts – used to mount plastics]
4-40 screws and nuts, enough for 25 LED's [per 12"]*
nylon washers, enough for 25 LED's [per 12"]*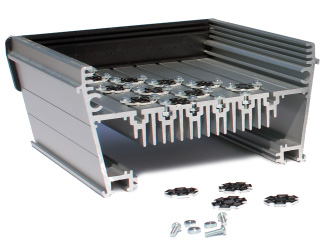 *The requires a separate 12v DC power source (ie: Power Adapter or
MakersDRIVER
)
*nano fixtures (6″) include enough hardware for 12 LEDs.
*18″ fixtures come with 1 fan

–

YouTube Video
– Build walk through:  http://www.makersled.com/30-leds-on-1-foot/
– FAQ on the Heatsink: http://www.makersled.com/guides/faq/
– 3D Google/Trimble Sketchup for planning:
http://sketchup.google.com/3dwarehouse/search?q=makersled&styp=m&scoring=t&btnG=Search
Photo Gallery: